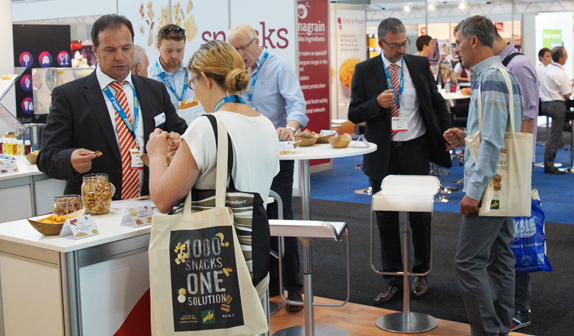 Show your innovations to the decision makers of the industry
Sell your products to an audience that is ready to buy
Meet existing customers and new prospects from around the world
SNACKEX BUYS YOU MUCH MORE THAN A STAND
SNACKEX is the industry-defining event for the savoury snacks sector - the world's only trade event dedicated to the savoury snacks industry and the best opportunity to launch or promote your products.
When you choose to exhibit at SNACKEX you are buying into a successful and growing event that both you and ESA Business members have played a significant part in creating. Our marketing campaigns in trade publications, email shots to our bespoke database, monthly e-newsletters and website activities reach a dedicated international audience which helps to grow SNACKEX every year… and to bring you the buyers you want. Supported by the ESA board and ESA's members we are able to reach out to the European industry and beyond to provide a fantastic networking platform and an excellent environment in which to do business.

Exhibiting at SNACKEX is a unique opportunity for your company to access international savoury snack industry professionals, top management; qualified buyers and key decision-makers from over 70 countries who are actively looking for new equipment, ingredients, products and services that will help them improve efficiency and profitability for their companies and to bring new solutions back to their businesses.
Exhibitors range from raw materials and ingredients suppliers, flavour houses, snack processing equipment and packaging machinery to consulting services.

Whether you're a small start-up company or a multi-national corporation, a strong presence at SNACKEX means your customers will see you as a category leader, committed to their success and dedicated to helping the savoury snack industry succeed.
The conference and tradeshow format where all events take place in a single venue allows you to showcase your products to key decision makers and captive buyers.
This kind of exposure will help you inform buyers, network with prospects and, above all, increase sales.
SNACKEX helps you to enter new markets and to generate new business from existing ones. Join us in Barcelona and experience the leading event in the industry for yourself!
COMPELLING REASONS TO EXHIBIT
• Event format combines exhibition with top level conference providing the only focused opportunity to target snacks buyers, specifiers and influencers, under one roof

• The trade fair is the central focus of SNACKEX and is the only fair in Europe dedicated 100% to the savoury snacks sector

• You will be taking part in an exhibition that is dedicated to the savoury snacks industry so your booth will not be lost against hundreds of others in the general food business

• Attendees come to SNACKEX because they know they will find new ideas, new technology and a wide range of solutions for their businesses

• Exhibitors take part because they know they will meet representatives from the top savoury snack manufacturers who are highly motivated and genuinely looking to do business


• Unrivalled opportunities to network – with visiting snacks professionals, conference delegates and other exhibitors


• You can network at the welcome reception function where you can informally meet conference delegates – an excellent opportunity for networking with like-minded professionals. You'll probably find you've got some leads before the show has even opened!

• Only qulaified visitors/buyers from the savoury snacks and snack nut industry are allowed in the fair


• You will meet leading decision makers – 70% of attendees at the last event had a buying influence


• You will get international exposure – meet buyers from over 70 countries


• You can share expertise – with visitors and other exhibitors


• Thank your best customers – keeping existing customers happy is as important as finding new ones. Many of your best customers will be at SNACKEX – you should be too!


• As an exhibitor you'll receive a free editorial entry in the show catalogue which is given free to every visiting buyer and conference delegate

• SNACKEX is the most efficient use of your marketing budget – putting you face to face with customers and new prospects


• Close a deal! – many exhibitors polled at the last SNACKEX closed a sale right there on the show floor!