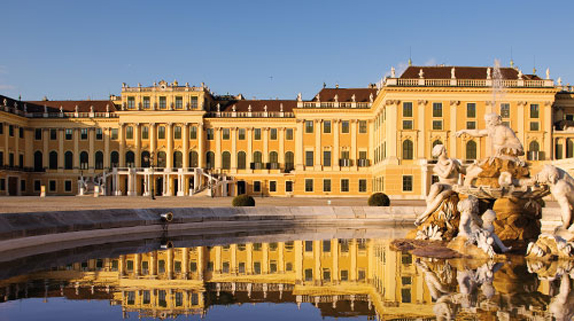 Vienna (Wien) is the capital and largest city of the Republic of Austria. One of Europe's most visited cities, Vienna lies in the east of Austria, close to the borders of the Czech Republic, Slovakia, and Hungary, owing much of its charm and rich history to its splendid location on the banks of the beautiful Danube River. For centuries the gateway between West and East Europe, it was the natural nucleus of the once sprawling Hapsburg Empire, and to this day remains Austria's most important commercial and cultural hub. Vienna continues to attract visitors with its many great historic sights, as well as for its busy program of events and entertainment. With an unmistakably cosmopolitan atmosphere, it retains a distinctive charm and flair, an effect accentuated by its fine old architecture, its famous horse-cabs (Fiaker), as well as its splendid street-side cafés with their Viennese coffees and treats.
Vienna is host to many major international organizations, including the United Nations and OPEC. The city's roots lie in early Celtic and Roman settlements that transformed it into a Medieval and Baroque city, the capital of the Austro-Hungarian Empire. The historic centre is rich in architectural ensembles, including Baroque castles and gardens, and the late-19th-century Ringstrasse lined with grand buildings, monuments and parks.  

Vienna is regarded as the 'City of Music' for its role as a leading European music centre, from the great age of Viennese Classicism through the early part of the 20th century. Among the city's museums are former residences of Beethoven, Schubert, Strauss and Haydn.

Vienna is packed with imperial history; at the same time it has exciting contemporary museums, lively eating and nightlife scenes, and many quiet corners to explore. A stroll around Vienna can be like a journey back in time to the days of the empire — it comes as no surprise that the historic city center is a UNESCO world cultural heritage site. Vienna boasts 27 palaces and more than 150 other residences - examples of the city's illustrious history await on virtually every street corner. Art accompanies you wherever you go in Vienna – even some of its underground stations are listed properties because of their elegant ornamental Jugendstil (Art Nouveau) style designed by Otto Wagner.
http://www.planetware.com/tourist-attractions-/vienna-a-w-vie.htm
Here are some favourite things do and places to see to help you make the most of your visit to SNACKEX!
Belvedere www.belvedere.at/en
Among Vienna's most popular attractions, Belvedere Palace is really two splendid Baroque buildings. Highlights of the Upper Palace include the ground floor hall with its statues and the ceremonial staircase with its rich stucco relief and frescoes. Also worth seeing is the Marble Hall, a stunning two-story hall with numerous period sculptures, paintings, and ceiling frescoes. The Lower Palace also boasts a Marble Hall, this one noted for its oval plaster medallions and rich ceiling fresco. Other notable buildings include the Winter Palace, a Baroque building that once housed the Court Treasury, the Orangery, the Palace Stables and the splendid Belvedere gardens and fountains linking the two palaces.
| | |
| --- | --- |
| | |
Schönbrunn www.schoenbrunn.at/en/
The spectacular 18th-century Schönbrunn Palace, designated a UNESCO World Heritage Site, is worth visiting not only for its magnificent architecture, but also for its beautiful park-like setting. One of Vienna's top attractions, this Baroque palace contains more than 1,441 rooms and apartments, including those once used by Empress Maria Theresa.
Hofburg Palace www.hofburg.com/en
Home to ruling families and elected leaders of Austria since 1279. Currently, Austria's president resides in this massive complex which includes the National Library, the Imperial Treasury and the Spanish Riding School. Construction of the palace stretched from the 13th to the 20th centuries, making it one of the most architecturally diverse buildings.
Museum of Art History
The Kunsthistorisches Museum (Art History Museum) was built in 1891 near the Imperial Palace to house the extensive collections of the imperial family. With its vast array of eminent works and the largest Bruegel collection in the world, it is considered one of the most eminent museums in the world.
www.khm.at/en/

National Theatre www.burgtheater.at
Vienna's superb National Theatre has long been famous for its productions of German-language plays and performances. Many famous names have acted on its four stages since its founding by Emperor Joseph II in 1776 as the Court Theatre. The building's exterior is impressive on account of its numerous decorative figures, scenes, and busts.
Vienna State Opera House
One of the world's largest and most splendid theaters, the Vienna State Opera House (Wiener Staatsoper) has hosted many of the world's most prominent composers, conductors, soloists, and dancers. Operatic and ballet performances are staged at least 300 times a year, fuelled by an obsession with music that goes as far back as 1625 when the first Viennese Court Opera was performed. www.wiener-staatsoper.at
Vienna Zoo www.zoovienna.at
The oldest zoo in the world dates back to Emperor Francis 1752. With many of its original Baroque buildings still intact, it's one of the most pleasant zoos in Europe to visit. A highlight of the zoo's more than 750 species are its giant pandas, including cubs, as well as the many fascinating creatures housed in the interactive Rainforest House and Aquarium.
Karlskirche www.karlskirche.at
Dedicated to St. Charles Borromeo, a saint invoked during times of plague, Karlskirche was built in 1737 and remains Vienna's most important Baroque religious building. This vast building is crowned by a magnificent 72-meter dome and is famous for its twin 33-meter Triumphal Pillars, based on Trajan's Column in Rome.
Spanish Riding School
Dating back to Emperor Maximilian II, the superb Spanish Riding School was established after the ruler had the famous Lipizzaner horses introduced to his courtesans in 1562. Today, it's one of Vienna's leading attractions, thrilling audiences with fabulous displays of equestrian skills in the grounds of the Hofburg Palace. Michaelerplatz 1, 1010.www.srs.at/en/
St Stephen's Cathedral
Vienna's most important Gothic edifice and the cathedral church of the archbishopric since 1722, St. Stephen's Cathedral (Stephansdom) is a must-see. Highlights include climbing the 343 steps to the Steffl's Watch Room for the spectacular views, the North Tower, home to the massive Pummerin Bell, and the 14th-century catacombs.
Vienna has an excellent public transport system which is very effective and inexpensive. Tickets are available from machines at underground stations (maestro debit cards accepted), at newsagents, or at Vienna Transport Authority's ticket offices. Tickets bought in advance are cheaper and must be punched in a blue ticket cancelling machine on the tram or bus, or at the barrier before boarding the underground train. If you are looking to travel the city-centre 'Ring' take one of the Ring trams (parts of the regular tram lines 1, 2, D, 71) from Stadtpark to the University of Vienna – you'll comfortably pass by the famous Ring buildings: Opera House, Art History Museum, Natural History Museum, Hofburg, Parliament, National Theater, Town Hall…).
Pdf map Vienna metro rail network
For timetable information / route map please click here

Here are some useful websites for even more things to do in Vienna.