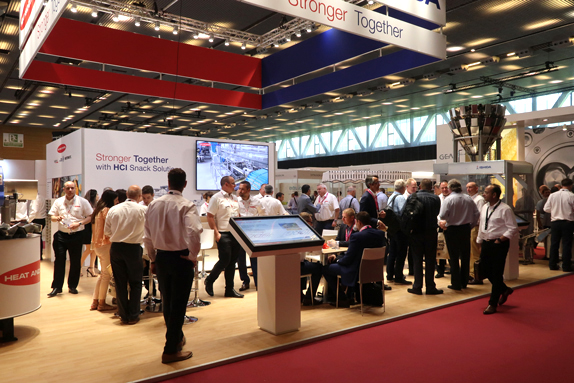 SNACKEX 2019 TURNS UP THE HEAT

As record-breaking temperatures swept across Europe, business was heating up in Barcelona, with plenty of hot new developments on show at SNACKEX 2019, together with lively discussions around which of the latest savoury snacking trends are coming to the boil.

Footfall was high, with a total participation of around 3,000 people. While the biggest contingent was naturally from Europe, people travelled from all continents to be there.

For some the focus was on finding specific technical solutions to help their production operations. "It's extremely useful to have so many snack industry professionals together with their machinery. We couldn't visit that many companies individually - it would take forever," said Mathew Wilcox, project manager with Kettle Foods in the UK. "At SNACKEX we are able to sit together with different people from a team and discuss projects we are working on. It's both a time and cost saving."

Others were keen to explore networking opportunities and explore the insights on offer during the conference sessions. "SNACKEX is the industry standard for us snack food manufacturers. It's where we get to meet all the 'big boys' and learn more of the industry in one central place and save time," said Nilesh Shah, chairman of Kenyan snack maker Tropical Heat.

The response from exhibitors was also overwhelmingly positive, with many yet again highlighting the advantages of SNACKEX's unique position as Europe's only event dedicated entirely to savoury snacks. There were plenty of familiar faces and big industry names among the 170 exhibitors, which also included many first time companies.

For everyone, this year was all about grasping the business opportunities associated with snackification. In his conference presentation, Mintel's David Jago noted that roughly a third of consumers in some European markets admit to 'frequently' skipping meals in favour of snacks, with that figure rise to more than half among 16- to 24-year-olds.

Similarly, Euromonitor International's Jared Koerten noted that growth in spending on snacks continues to outstrip growth in staple foods among European consumers, even as increases in disposable income remain sluggish. He also identified that there is still lots of opportunity for growth in savoury snacks in Europe, where confectionery – which is under increasing pressure from anti-sugar campaigners - has historically enjoyed a bigger slice of overall spending on snacks than in other regions.

People may be snacking more, but that doesn't mean they're happy to eat badly, with around half of consumers saying they look for healthy snacks most or all the time, Jago told the conference. This is a trend the industry is acutely aware of, so healthier snacking was a recurring theme throughout the SNACKEX.
For instance, there was a strong showing from the nut contingent, with peanuts and almonds especially well represented.

"This is the first time we've participated and it's very different from the [general food industry] events we are more used to, like Anuga and SIAL," said Ubiracy Fonseca, president of the Brazilian peanut association ABICAB. Brazil has doubled peanut production in recent years and is currently the largest peanut exporter in South America and the fifth largest in the world, Europe is its most important export region. "It's the quality of the visitors – all the big buyers are here. It's a meeting point for the industry," he added.

The Almond Board of California was also on hand to highlight the enormous opportunity it sees in turning nuts - which tick all the boxes for consumers in terms of health and convenience - into flavoured products. There were a range of exotic prototype coatings to try. Dariella Roffe-Rackind, director of public relations, said: "These have really captured people's imaginations at the show. Almonds are such a subtle flavour so can marry with a wide range of flavourings and give many possibilities. The adventurous consumer is one of the biggest trends in snacking, so it's an underexploited opportunity."

Maggie Walker, marketing manager with flavours and seasonings specialist Frutarom, agreed that the unique SNACKEX focus is a big advantage, even though her company also works across a range of other food categories: "What visitors are saying is that those other things [at the bigger food shows] aren't relevant. They don't come here to hear about ice cream or meat. What you've got here in one hall is everything you need for savoury snacks, so visitor feedback has been very good." Frutarom was keen to show how flavour trends from other categories are making their way into savoury snacks, highlighting Sriracha and Katsu as particularly interesting.

Euroma meanwhile highlighted a number of different consumer segments based on personality characteristics ranging from egocentric to social and from creative to conservative. In 2019, creativity and social are winning the day with the Instagram generation, according to marketing and innovation manager Pernella Geluk: "The looks have to be important - multisensory is very important. The flavours can be quite over the top and it's all about the creativity."

Intense creativity was also in evidence in the range of base materials on show, with high-protein, high-fibre ingredients based on pulses cropping up repeatedly from the likes of Limagrain Céréales Ingrédients and the recently rebranded Snack Creations. Veganism was identified by several suppliers as the fastest growing trend, although there was also a lot of interest in unusual options such as the award-winning lobster or seaweed and squid ink pellets from Quality Pellets.

Overall, there was a strong showing from seasonings and ingredients firms but some of the most visually exciting installations were the major pieces of processing equipment. For instance, the combined stand of Heat and Control and Ishida showcased equipment from production to packaging. "We really appreciate the snack food focus of all the ESA events and we like to support them," said Heat and Control sales manager Bobby Kane. "We know that all the snack food companies will be here and we always do a lot of business."

Rosenqvists Food Technologies was among those with something totally new to show, in the shape of its salt roaster. "We've in principle taken the fryer and replaced the oil with salt. You heat it with infrared elements to 175C and pass it through a big screw," explained sales manager Göran Wadsten. "We wanted to introduce it at SNACKEX and didn't want to wait two years for next time so it was a bit of a rush to be ready in time. We try to be innovative and we already have pellet fryers for oil and this is a healthier option." There are still some unknowns with such new technology, but Wadsten said that interest was intense: "We've been crazy busy."

Nanonord's commercial director Ultan O'Raghallaigh was delighted by the "tremendous amount of interest" in the first-time-exhibitor's NMR (nuclear magnetic resonance) systems. NMR can measure sodium, and by extrapolation salt and seasonings, down to ppm levels of accuracy. "We're very excited to be moving into the snacks industry," said O'Raghallaigh. "We almost stumbled into it. All the big guys are doing trials at the moment."

The Autumn 19 issue of The Snacks Magazine will include more information on some of the other highlights at the exhibition and conference. In the meantime, Wilfred Rombauts of cutting blade company Stumabo summed up the mood of most participants: "This is our third time at Snackex [exhibiting on a stand with sister company FAM] and I can easily convince our owner to come again. Looking at the number of leads we're getting, we'd all be jumping up and down if he said we couldn't take part next time."