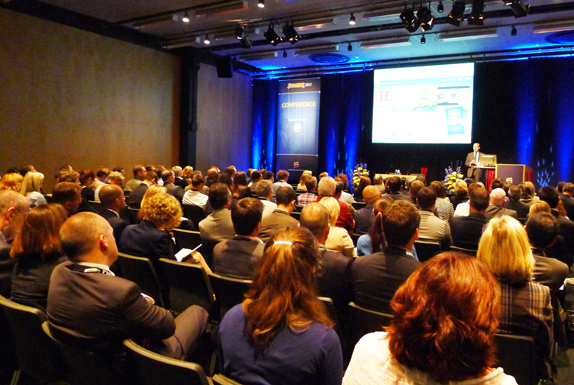 'Discover tomorrow's snacking' is the theme of the 2017 conference.
The two-day programme of expert speaker sessions is designed to give industry executives insight into what's driving the market, together with information and contacts that you can take back to your business to make an immediate impact.
Attend SNACKEX to learn about how savoury snack consumers will develop in the next 3-5 years and which are the market trends our sector has to invest into to stay on top of the wave.
Please visit this page regularly for news and updates about the conference programme content and guest speakers.
Tuesday 20 June
13:00

–

19:30

Conference delegate registration

Wien Messe Hall D Foyer

19:30

–

22:30

Welcome reception networking dinner

Hotel Hilton Danube riverside terrace

Reception kindly sponsored by Kelly's
08:30

–

10:00

The SNACKEX Kick-off breakfast

Snacking 2.0 - the consumer of the future
Guest speaker: Ken Hughes, consumer & shopper behaviouralist


Conference

11:00 – 12:00

Trends in savoury snacks and nuts and their impact on the savoury snacks sector
Marcia Mogelonsky, Director of Insight, Food and Drink, Mintel




Workshop

12:00

–

12:25

Show Floor

Engineering value-added sources to manage snack food waste sustainably

Dvijal Patel, food technologist, Bühler Aeroglide

Conference

12:20 – 13:20

Insights, opportunities and innovation in snacking


Ciara McCabe, Consumner Insights Manager, Kerry EAME




Workshop

14:00

–

14:25

Show Floor

Design procedures and principles for savoury snack fryers

Roland Haraldsson, R & D manager, Rosenqvists Food Technologies

Conference

14:30 – 15:30

Dynamics of private label (snacks) marketing in Europe


Fraser McKevitt, head of retail and consumer insight, Kantar Worldpanel

Workshop

15:45

–

16:10

Show Floor

Regulatory legislation for process contaminants in savoury snacks

Andrew Curtis, scientific & regulatory affairs, European Snacks Association
Thursday 22 June
Conference

09:00 – 10:00

State of the (European) savoury snacks industry 2017

Pinar Hosafci, Senior bakery and snacks expert, Food Research Euromonitor International

Workshop

10:30

–

10:55

Show Floor

Traditional vs new processing techniques for corn snack products

Bobby Kane, sales manager, UK and Middle East, Heat and Control

Conference

11:00 – 12:00

Biting into your reputation: How to deal with activist fear campaigns

Dr David Zaruk, Université Saint-Louis Bruxelles, Odisee University College




Workshop

11:45

–

12:10

Show Floor

Driving overall equipment efficiency in savoury snack manufacturing

Mike Bradley, head of global sales & marketing, Mettler Toledo Safeline




Conference

12:15 – 13:00

The impact of digital, online grocery on snack producers

Sebastiaan Schreijen, senior analyst consumer foods (FAR), Rabobank

Workshop

12:30

–

12:55

Show Floor

Basics of popcorn production

John Concannon, vice-president, C. Cretors & Company

Workshop

14:00

–

14:25

Show Floor

Benefits and basics of oil filtration and treatment

Neil McLeod, group product manager, Filtercorp

19:30 till late

President's closing dinner & party

Vienna City Hall

(Transfer transport will be provided)
To expedite the conference speakers may be substituted and subjects may be presented in a different running order or on a different day than shown.